PNT's Process
More than customer information or data analysis, Customer Intelligence is an active discipline – and a powerful business advantage. It's a process of transforming everything you know about your customers into actionable insights, then using those insights to forge better, more profitable customer relationships.
Your customers expect you to act like you're really listening to them. Powered by Customer Intelligence, you will. We'll partner closely with you to:
Understand your business needs and the competitive landscape
Assess your existing data resources and relationship marketing capabilities
Discover actionable insights within your customer data
Channel insights into action, implementing customer-centric strategies based on fact-based acquisition / retention opportunities
Measure results to adapt, refresh and refine for continuous improvement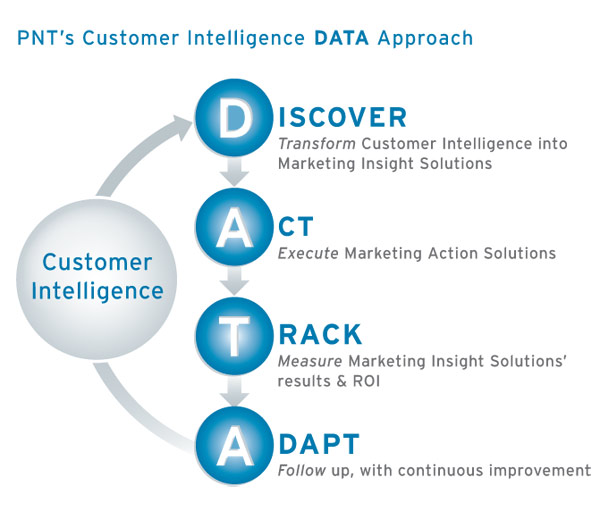 Our rigorous and streamlined DATA-driven approach yields pure Customer Intelligence. And that's how we help smart business partners win.
Our Customer Intelligence Solutions discover powerful insights in your data, empowering you to act, delivering the right customer-centric communications and offers to the right customers, then track, measuring your results so you can adapt for continuous improvement.
Our ultimate goal is to grow your business. And, thanks to our exclusive partnership with custom content agency RICG, we can take you through a jargon-free process that removes subjectivity and randomness out of typical marketing programs, in favor of a clear, step-by-step approach:
Data Diagnostic & Creative Discovery
Build your customer-centric datamart
Predict highest-value targets
Design your brand experience
Customize your message
Deploy flawlessly across multi channels
Measure, track, adjust & optimize
Map against original business goals. And repeat.